phone
718-817-8681
Monday-Friday
9:30 a.m.-12:30 p.m.
email
address
The LuEsther T. Mertz Library
The New York Botanical Garden
2900 Southern Blvd.
Bronx, NY 10458
@emeraldashborer: Providing information on Emerald Ash Borer
About the Emerald Ash Borer
The Emerald Ash Borer (Agrilus planipennis or EAB) is responsible for the destruction of tens of millions of ash trees in 25 states in the Midwest and Northeast. Native to Asia, it likely arrived in the United States hidden in wood packing materials. The first U.S. identification of Emerald Ash Borer was in southeastern Michigan in 2002. There are a variety of treatment options that can serve as a control measure for the EAB, but they are not a cure. Because pesticide regulations differ from State to State, homeowners should contact their State department of agriculture or local extension office for guidance.
from USDA
Science @ NYBG - Strategy for Conserving Ash Trees in the Northeast: Collection, Analysis, and Outreach
Daniel Atha, Brian Boom, Greg Plunkett, and collaborators

NYBG scientists, working as part of a multi-disciplinary, multi-institutional team, are investigating the genetic diversity of ash trees and will make these findings available to the scientific and conservation communities for use in efforts to protect North American ash trees from the invasive Emerald Ash Borer. The project's goal is to elucidate the relationships of different ash species and to study patterns of susceptibility to EAB, enabling adoption of appropriate conservation strategies. Additionally, citizen scientists will be trained in New York and New England in ash identification and data collection, allowing them to contribute scientifically to the proposed project as well as further ash conservation initiatives. The project will take advantage of the unique opportunity to obtain and employ critical data while considerable areas in this region remain un-invaded by EAB. But time is of the essence, as the EAB's range is rapidly expanding and it is known to inflict nearly 100% mortality on the ash species commonly occurring in New York and New England.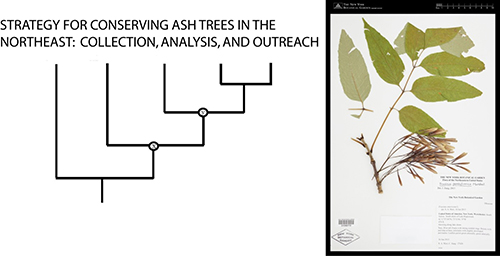 NYBG Garden Navigator

Use this resource to explore the NYBG grounds, including information about specific plants, bloom times, and garden features.

NYBG Garden Guides

Guides from the Plant Information Office related to specific NYBG gardens, including their history, design, and current plantings.
Initial count EAB detections in North America
Mamy additional images of the Emerald Ash Borer can be found on the website http://www.forestryimages.org/.
Videos on Emerald Ash Borer